Bienvenido a LaPollaDesertora!
Regístrate ahora
y accede a todos los contenidos sin restricciones.
Seguro te divertirás y conocerás gente nueva!
.
VA - Looking Stateside: 80 US R&B, Mod, Soul & Garage Nuggets (2016) WAV
---
---
>> Usa Brave para navegar por la web más rápido y en privado <<
[center]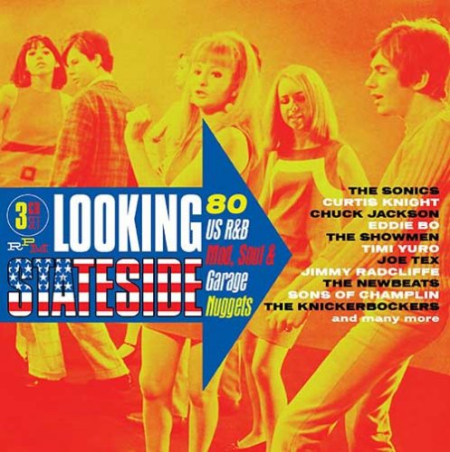 WAV (tracks,scans) | 3h 20 min | Genre: Mod, Beat, Rhythm & Blues, Garage Rock | 2.04 GB

[/center]

UK three CD collection that pays homage to American mod music from the 60s. Many of the tracks here are drawn from the prestigious back catalogs of Challenge, Scepter/Wand, Etiquette, Swan, Shell, and Select, and a large number of those new to CD. Looking Stateside goes back to the roots of the mod scene on Disc One. From the opening bars of Georgia Lynn's 'Sugar Shack Queen', these are the sounds you might have heard down at The Scene Club in London's Ham Yard (had Guy Stevens or other DJs have owned these tunes on import - for most of them weren't issued in the UK at the time). Mickey Lee Lane's 'Hey Sah Lo Ney' was famously covered by The Action while Curtis Knight was later a fixture on Britain's rock scene of the early 70s. Disc Two offers a superb cross-section of mid-60s soul, from familiar classics (Chuck Jackson, The Showmen, Don Varner) to more obscure fare (Timi Yuro, The Kampells, Richard Anthony & The Blue Notes) and a whole lotta quality in between. Often, we've chosen less familiar sides. The Newbeats, for example, are represented by the terrific but often overlooked 'I'm A Teardrop'. Disc Three is launched with a hail of buzzsaw fuzz guitar and snotty vocals, courtesy of The Brogues' classic 'Don't Shoot Me Down', and the pace rarely lets up thereafter. Again, the compilers have married bona fide garage punk classics (the Moving Sidewalks, The Sonics, etc.) with a clutch of tracks new to CD and others which have eluded compilations of this sort.
:: TRACKLIST ::
CD 1
01. Georgia Lynn - Sugar Shack Queen
02. Mickey Lee Lane - Hey Sah-Lo-Ney
03. Willie Jones - Where's My Money
04. Jimmy Gordon - Buzzzzzz
05. Millie Foster - Love Wheel
06. Curtis Knight - Gotta Have A New Dress
07. Earl Wade - I Feel So Bad
08. Jimmy McQuade & The Unique Echos - Bongo Talk
09. Little Gigi - Take The Bitter With The Sweet
10. Leroy Harris - I'm Gonna Get You
11. Eddie Bo - Now Let's Popeye
12. Zeke Sheppard - Snow Surfin'
13. The Rangers - Mogul Monster
14. The Demotrons - You Copped My Soul
15. Herb Johnson - Two Steps Ahead (Of A Woman)
16. The Locomotions - Make It Saturday Night
17. Mark Valentino - The Push And Kick
18. The Buena Vistas - TNT
19. The Swans - He's Mine
20. The Kittens - The Sweetest Boy
21. The Champs - Switzerland
22. The Tomboys - I'd Rather Fight Than Switch
23. Billy Lee - Just In The Nick Of Time
24. Little Joe & The Mustangs - South Swell
25. Teddy & The Twilights - Running Around Town
26. The Delacardos - I Just Want To Know
27. Music City Swingers - Passing Thru Music City
CD 2
01. Richie Barrett - I Will Love You
02. Timi Yuro - Gone
03. Don Varner - Tear Stained Face
04. Jimmy Seals - The Yesterday Of Our Love
05. Chuck Jackson - These Chains Of Love (Are Breaking Me Down)
06. The Showmen - Take It Baby
07. The Spyders - I Can Take Care Of Myself
08. Sheila Ferguson - Are You Satisfied
09. Ron Holden - I'll Forgive And Forget
10. The Modern Redcaps - Never Too Young (To Fall In Love)
11. The Falcons - Has It Happened To You Yet
12. John Leach - Put That Woman Down
13. Charles Lamont & The Extremes - I've Got To Keep Moving
14. The Jay Walkers - Can't Live Without You
15. Silent Glo - Hard Hard Way
16. Richard Anthony & The Blue Notes - The Boston Monkey
17. Jerry Fuller - Double Life
18. Sonny Stiles & His King Men - Here She Comes
19. Eddie Carlton - It Will Be Done
20. The Kampells - You Got It Bad
21. Joe Tex - I Wanna Be Free
22. Mack Rice - Baby I'm Coming Home
23. Sammy Stevens - Everybody Crossfire
24. Linda Cumbo - Yesterday Today And Tomorrow
25. The Newbeats - I'm A Treadrop
26. Jimmy Radcliffe - Soulville
27. Maxine Sellers - Some Kind Of Fever (Pray For Rain)
CD 3
01. The Brogues - Don't Shoot Me Down
02. The Moving Sidewalks - 99th Floor
03. The Sons Of Champlin - Fat City
04. Gene Vincent - Bird-Doggin'
05. The US Male - You Got Yours
06. The Knickerbockers feat. Jimmy Walker - As A Matter Of Fact
07. The Rivals - It Won't Be Long Now

DOWNLOAD
uploadgig

Cita:
rapidgator
Cita:
nitroflare
Cita:
Cargando comentarios espera un momento...