Bienvenido a LaPollaDesertora!
Regístrate ahora
y accede a todos los contenidos sin restricciones.
Seguro te divertirás y conocerás gente nueva!
.
VA - The Rough Guide To Country Blues (Reborn And Remastered) (2019)
---
---
---
[center]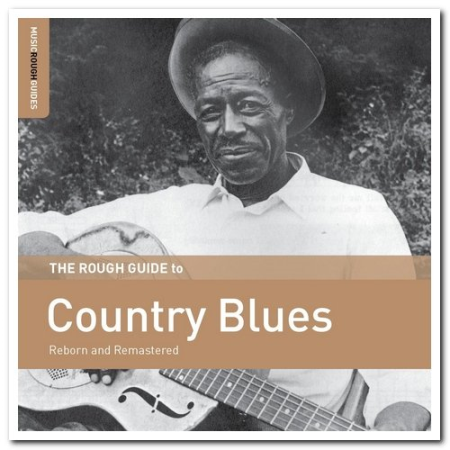 Artist: Various Artists
Title: The Rough Guide To Country Blues (Reborn And Remastered)
Year Of Release: 2019
Label: Music Rough Guides [RGNET1388CD]
Genre: Country Blues
Quality: FLAC (tracks+cue,log,scans) / WAV (tracks,scans)
Total Time: 1:14:50
Total Size: 253 mb / 761 mb
[/center]

ReviewFrom sublime bottleneck guitar and upbeat rags to classic songster tunes and hokum, this Rough Guide highlights the many different facets of country blues, with tracks by blues legends including Blind Lemon Jefferson, Charley Patton, Skip James and many, many more.
:: TRACKLIST ::

01 Skip James: Hard Time Killin' Floor Blues 02:48
02 Blind Willie McTell: Georgia Rag 03:02
03 Blind Willie Johnson: God Moves On The Water 02:57
04 Tommy Johnson: Cool Drink Of Water Blues 03:24
05 Big Bill Boonzy: How You Want It Done? 02:50
06 Robert Wilkins: That's No Way To Get Along 02:52
07 Frank Stokes: I Got Mine 03:04
08 Barbecue Bob: Honey You Don't Know My Mind 03:08
09 Bukka White: Sic 'Em Dogs On 02:21
10 Geeshie Wiley: Last Kind Words Blues 03:01
11 Blind Blake: Come On Boys Let's Do That Messin' Around 02:44
12 Charley Patton: A Spoonful Blues 03:09
13 Mississippi Sheiks: Sitting On Top Of The World 03:13
14 Mississippi John Hurt: Ain't No Tellin' 02:54
15 Blind Lemon Jefferson: Jack O'Diamonds (Take 2) 02:44
16 Blind Boy Fuller: Mama Let Me Lay It On You 02:54
17 Willie Brown: Future Blues 02:59
18 Clarence Greene: Johnson City Blues 02:56
19 Reverend Gary Davis: The Great Change In Me 03:18
20 Son House: My Black Mama - Part 1 03:08
21 Memphis Minnie & Kansas Joe: New Dirty Dozen 02:58
22 Furry Lewis: Billy Lyons And Stack O'Lee 02:31
23 Cannon's Jug Stompers: Walk Right In 02:54
24 Dick Justice: Cocaine 03:09
25 Leadbelly: Packin' Trunk Blues 02:54

DOWNLOAD
uploadgig

Cita:
rapidgator
Cita:
nitroflare
Cita:
Cargando comentarios espera un momento...