Bienvenido a LaPollaDesertora!
Regístrate ahora
y accede a todos los contenidos sin restricciones.
Seguro te divertirás y conocerás gente nueva!
.
VA - Soul Togetherness 2019 - 15 Modern Soul Room Gems (2019)
---
---
---
[center]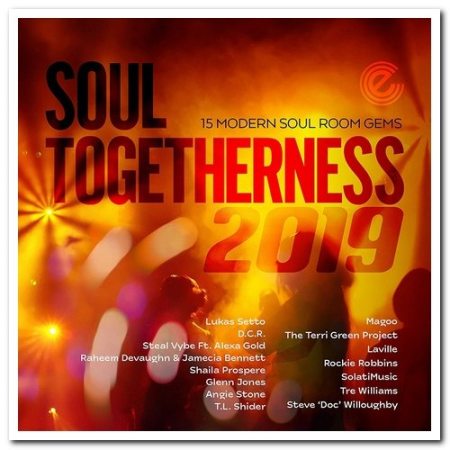 Artist: Various Artists
Title: Soul Togetherness 2019 - 15 Modern Soul Room Gems
Year Of Release: 2019
Label: Expansion [CD EXP 61]
Genre: Soul, Disco, Boogie, Contemporary R&B
Quality: CBR 320 kbps / FLAC (tracks+cue,log)
Total Time: 69:23
Total Size: 163 mb / 467 mb
[/center]

ReviewExpansion's most successful and longest running compilation series returns with its 2019 collection. It's the 20th edition. The concept remains the same, the tracks better than ever, fifteen must-have modern soul room gems taken from the year's biggest dance floor spins on the soul scene. While tracks here have topped UK soul charts, many have not been available in all formats. Once again, attention is paid to the 'flow' of the 15 gems chosen here from uplifting new soul, shuffling boogie beats, rare groove/80s revival sounds, Brit soul, and R&B played at modern soul events. Participants this year include Lukas Setto with a signature song for 2019 for the first time here on CD and LP alongside other new artists Laville, DCR, The Terri Green Project, SolatiMusic. New music too from Shaila Prospere (first time CD/vinyl), Tre Williams, veteran artists Angie Stone (first time on vinyl), Glenn Jones (also first time on CD/vinyl), Rockie Robbins and Raheem Devaughn. There's a superb new cover of the Inner Life track "Make It Last Forever" from Steal Vybe, a 70s revival tune from Steve 'Doc' Willoughby.
:: TRACKLIST ::

01. Lukas Setto - What Turns You On
02. D.C.R. - Positive Vibes
03. Steal Vybe Ft. Alexa Gold - Make It Last Forever
04. Raheem DeVaughn & Jamecia Bennett - Need To Know
05. Shaila Prospere - Plus One
06. Glenn Jones - You & Me (R&B Version)
07. Angie Stone - Same Number
08. T.L. Shider - Need Somebody To Love
09. Magoo - Still Really Love
10. The Terri Green Project - Giving It Up
11. Laville - Thirty One
12. Rockie Robbins - Good Life (Extended Version)
13. Solatimusic - Tell Me
14. Tre Williams - When I Get Back
15. Steve 'Doc' Willoughby - All My Life (Long Version)

"15 modern soul room gems"

DOWNLOAD
uploadgig

Cita:
rapidgator
Cita:
nitroflare
Cita:
Cargando comentarios espera un momento...